Mr. Frosty is here to welcome Baby Jesus.
Centered on the fireplace mantle sans Christmas decorations.
After Thanksgiving will come soon enough.
pockets large enough to accommodate candy
I have two kids...hence the two pieces of candy
love that blue glitter shimmer!
Merry Christmas!
my favorite shot
love the angles and bright colors!
I've always wanted to make an Advent Calendar. I even had a couple ideas set aside for *someday,* but never did figure out what day that was! lol The
Totally Green Contest Holiday Edition
gave me the kick in the pants that I needed. The
contest objective
is to create a holiday decoration (
any
holiday) out of at least one recyclable item. I love all things
reused
and
renewed!
And as my husband can tell you, I have
plenty
of recyclables lying around. (His exact words were: I think you're becoming a hoarder. I'm concerned.)
No fear hubby dear!
Some of those recyclables/hoard have found a purpose we'll treasure each year!
It was important to me to include Bible verses for each day as an "echo" to what we are already teaching our kids. Scroll down to the final picture for the link to Bible Study Planet's verse collection on
keeping Christ in Christmas
and other verses used.
Recyclable Materials Used
old cork board
garage-sale-find-stocking
advent calendar
toilet paper tubes
thin cardboard boxes
white cord
(other items: hole punches
and sequins)
old piano sheet music
(who am I kidding?
I'm too lazy to learn how to play this.)
Other items: nativity stencils
printed from


www.sugardoodle.net.
sticks from outside
wooden rectangle from
craft supplies curb alert


Other Materials Used
paint purchased new
about $1.00
everything else from
my craft closet
purchased new
about $4.00
2 rolls of ribbon from Hobby Lobby
about $6.00

Not pictured:
number stickers from the dollar store
glue gun and glue sticks
paint brushes
old rag
Tutorial:
1. Using hot glue gun, fold and glue bottoms into a pill box style, creating a pocket
2. Cut off roughly the top 1 1/2 inches...save scraps.
3. Paint!
The former Kindergarten teacher in me saw this and thought: "calendar activity," so I followed an ABAB pattern. All even numbers are painted candy-cane, let's learn how to count by 2's!

4. Using the hot glue gun, glue the cords to the board, then glue the pockets on top.
Again, "calendar activity," these are in rows of five...so we can learn the concept of grouping and counting by 5's.
5. Print off nativity stencils.
6. Using an old rag and a mixture of assorted brown paints, "age" the sheet music.

7. Trace stencils onto sheet music and cut out.
8. I wanted a more defined edging so that my nativity characters didn't blend into the board. Using an old rag and some dark brown paint I wiped around the edges of each stencil.
9. Using a dry brush and assorted brown paints I painted the stable from a piece of craft board. Hard to see the color variations in this picture.

10. I mod-podged Mary, Joseph, and baby Jesus to the board. When dry, I mod-podged over the whole rectangle.

11. Using my fingers I snapped the stick to the dimensions of the stable. Hot glue was used to hold the sticks in place.
12. To keep the rest of the nativity characters from being flimsy I mod-podged them onto a thin piece of cardboard. When dry, I mod-podged over them.
13. I also used the thin cardboard to hole punch out snowflakes for the odd numbered pockets. Each snowflake was painted white.
14. Twine was wrapped around the sticks to create a more realistic look.

15. Then the rectangle, stick shelter, and nativity people were hot glued into place.
Steps not pictured:
16. The leftovers from the toilet paper rolls (see step 2) were cut in half to fit inside each pocket. These will be the tabs.
17. Paint each tab. Flatten if they insist on curling.
18. Apply number stickers.
19. Seal number stickers with mod-podge.
20. Add Bible verses to the back of the tabs:
Click here
for Verses for Keeping Christ in Christmas from Bible Study Planet. I mixed in a few of my own, including verses from Psalm 139 and Zephaniah 3:17. Tried to attach the word document but can't figure out how. Feel free to e-mail me at: reducereuserenewed@gmail.com and I'll send you the attachment.
21. Glue ribbon around frame (used Mod Podge for the turquoise ribbon and tacky glue for the white ribbon).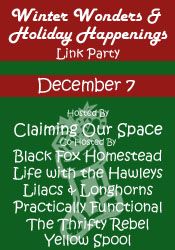 Click Here