This tree was inspired by the one I saw at
Marty's Musings.
Here is how I made something similar out of random trim picked up from a Craigslist Curb Alert (free!!!).
Step 1: Washed the boards with a vinegar and water solution. They were yucky!
Close up pic of the trim and its grooves.
Step 2:
Eyeballed the lengths and cut with a hand saw.
Step 3:
To "age" the wood I first hit it with a hammer in random places to create more dents. Then, using a mahogany gel stain (left over from redoing our kitchen cabinets), I wiped the stain over each board.
Step 4
: I printed out the words from my computer then using a the sharp end of a pen I traced the words onto the wood creating a groove.
Step 5
: With a brown marker I traced the groove of each letter, 2-3 letters at a time so that the marker ink didn't try completely.
Step 6
: Before the marker ink dried completely I carefully wiped with a rag, smearing and fading the letters. It has a wood burned type of look afterwards.
Step 7:
Tree "boughs" put in place with wood glue.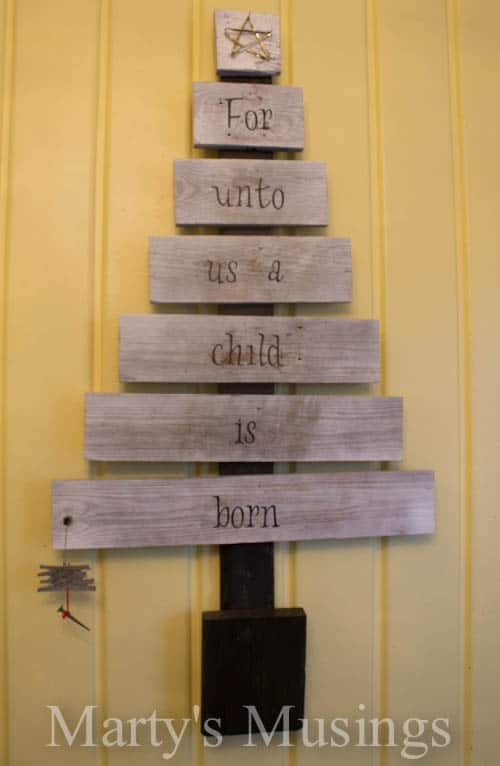 INSPIRATION @ Marty's Musings
my version
smaller so it fits on my mantle without invading it too much
hard to see, but the word "hope"
is written on the baby blanket
God's gift to us
sheet music lightly painted over with a brown glitter acrylic paint
Mod Podged onto cardboard...3 layers actually to create dimension
currently held on with sticky tack...not totally in love with this star...
might try again...we'll see